who we are
For 20 years, we've been the  leader in creative media education. We consistently graduate industry-ready students with real passion for what they do from our two main campuses: one based in the bustling centre of Cape Town's business district, the other in vibey Johannesburg.
Are you already working in your chosen industry?
Whether you're looking to study for the first time or you want to supplement your CV, we've got the right course for you!
what we do
Building on our 20 year legacy of successfully offering creative full and part-time qualifications in Cape Town and Johannesburg, CityVarsity Online now makes creative courses, designed by leading subject matter experts accessible to you – Online! By harnessing the power of educational technology to make this a reality.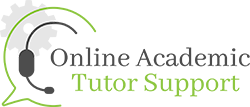 Online Academic


Tutor support

Each course is assigned their own Online Academic Tutor, who is ready and waiting to guide and assist their students throughout their online learning experience. Our Online Academic Tutors are knowledgeable about the academic content, online policies and procedures whilst empowering students to achieve academic success.
Online course delivery and assessments
CityVarsity Online Courses are designed and delivered by the course lecturers themselves, which will allow our students the opportunity to engage with these industry experts. The subject matter specialists present their courses through module notes and short videos that are always accessible via the Online Learning Studio. Learner's can simply log in and continue learning where they left off.
Throughout the courses, learners are encouraged to refer to supporting external content for a broader understanding of the topics, and to engage in interactive forum discussions between fellow students, promoting both independent and shared learning.
Quizzes throughout each course allow learners to test their own grasp of each module, and possibly highlight areas of misunderstanding that can be discussed with their academic advisor.
Each module is accompanied by an assignment, which may be made up of a number of tasks. Learners are required to submit their assignments for assessment by the supplied deadlines, and can expect timely feedback direct from their academic advisor.
Module notes
Engaging Videos presented by the SME
Online Learning Studio
Supporting external content
Social Learning via discussions Forums
Assessment and Quizzes
Assignments
Individual Feedback from the SME
Academic support from the
Academic Advising Centre
" CityVarsity Online brings the 'Learning Studio' into your space,
making it accessible anytime, anywhere "