By Khanyie Dlamini
So what criteria makes up the best ad campaigns? Well, it's simple. It has to be about the popularity and reach that the advert has and the brand impact it makes.
These ads have done incredibly well on social media platforms such as YouTube or Instagram. The creativity and thought process that goes into it is what makes the campaign gain massive success. It's the content, the visuals and the audio that make the final output work and achieve its goal. Many brands have adopted an advertising strategy of including social issues and trending conversations in their marketing concepts.
Sometimes it's clever techniques such as thought-provoking advertising that ignites emotion in people. By using a brilliant concept in the ad to convey this, the campaign creates a greater impact. The elements that go into creating an advertising campaign such as conceptualising, copywriting, scriptwriting, graphics and video marketing skills all work together to make it incredible.
With consumers being exposed to so many adverts, it's vital for brands to come up with campaigns that will be attention-grabbing and impactful. There is a lot of expenditure that goes into making a campaign. For brands to be effective in their ads, they need to explore the winning features that other ad campaigns have. They also need to do market research and find out how they can appeal to social audiences.
The success of any campaign is determined by the reach it gets. This is measured by the views, shares, engagement and interaction with followers that it gets. It's in how they get conversations started and how they create a buzz around their brands that help them increase their growth. In no particular order, let's have a look at the five best Ad Campaign videos that have shone through this year.
Airbnb Promotes Ethnic Acceptance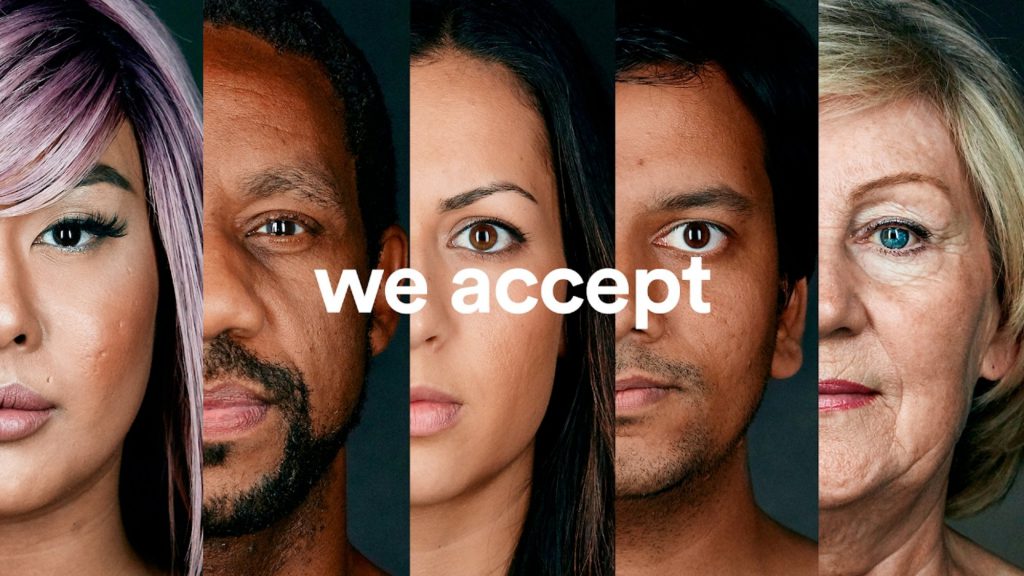 Image source: Shutterstock 
The Airbnb ad did well because of how the brand promoted the acceptance and tolerance of people in all ethnicities. With the hashtag #Weaccept, the video showed a close-up view of people's faces in all races. The close-up view and authenticity of the images of people in the video created a sense of humanity.
The ad campaign came timely with the recent travel ban that the US president made against majority Muslim countries. The video has had a tremendous reach and gained 5 million views in its first month and raised awareness about the caring brand.
Video Link- https://www.youtube.com/watch?v=yetFk7QoSck
Nike for Arab Women
Image source: YouTube
Nike jumped on the social issue of Arab women who have been boxed by societal stereotypes. The advert was directed at addressing the gender role issues that affect Arab countries. The message in the campaign was that women can rise up from these standards and not succumb to the norm.
The ad shows 5 successful female athletes doing intense exercise and sports, to show that women can defy the odds. In the advert we see women skating, playing sports such as soccer and displaying their strength.
The commercial shows that taboo thinking associated with Arabic women can be overcome with positive thinking. In this way, the brand gives women assurance that they are powerful and supported.
Video Link: https://www.youtube.com/watch?v=F-UO9vMS7AI
Instagram Chef: 'Salt Bae'
Image source: Telegraph UK 
Turkish chef, Nusret Gökçe became an Instagram sensation after he shared a video at the beginning of 2017. What made the video dramatic was the 'pinch of passion' which has created the #saltbae memes on social media.
The chef has since been posting videos of himself slicing meat and adding his signature move when he adds salt in the end. The Turkish restaurant's popularity is said to have sky-rocketed since the video went viral. According to NBC News, the chef now has nine businesses and 6000 employees.
Instagram Video- https://www.instagram.com/p/BO9dI9ujWNI/?taken-by=nusr_et
Cadbury PreJoy- Moments
Image source: YouTube
Cadbury shared a video that had different clips of people sharing their jubilant moments while eating a Cadbury chocolate. In the video, they selected the most popular YouTube clips and created a pre-roll of these Cadbury moments.
The video was targeted at the digital audience on social media where videos are dominant. Cannes Lions Film Jury picked this video as one of the year's best commercials.
Video Link- https://youtu.be/stdQYdTJdME
Preganews Promotes Women's Health in the Workplace
Image source: YouTube
The Preganews brand came up with an ad around the issues of pregnant women in the workplace. The advert touches on the issue of how women can be ill-treated at a time when they are sensitive. It sends out a powerful message for workplaces to accommodate women who are pregnant and to make work their 'second home'.
The video raises a question of what workplaces are doing to be sensitive to women who are pregnant and still have to work. The ad challenges workplaces to make this an environment that's considerate of a woman's health during pregnancy.
Video- https://youtu.be/oYykA8wp844
What goes into inventing a Creative Ad Campaign?
Image source: iStock
All these videos became a success on social media because it raised consciousness or touched people. The brainchild behind each campaign, of course, is the creative team who rarely get much credit. These are the people with the skills and creativity, who put their brains together to come up with a mind-blowing advert.
To achieve success in advertising, one needs to have the full complement of mind and acumen to come up with ideas. These are your skilled copywriters, graphic designers and digital marketing experts. All these skills combined can produce exceptional concepts that are needed in advertising.
For these professionals to gain cutting-edge skills and inventive ability its essential for them to undergo educational training. By choosing to study a short Online Course, the creative team can acquire much more high-level skills.
The capabilities that they learn when they study an Online Course assists them in having specialist skills. This expertise is what's needed to come up with brand-new and leading campaigns that make a dynamic impact.
Successful campaigns and commercials are a result of effective brand creativity. With social media and video marketing, there is no limit on the influence that a brand can attain.
About the Author: Khanyie Dlamini
Content Creator at Educor Holdings
As a writer in the education sector I am passionate about nurturing people in their careers, wellness and personal growth. I focus on a variety of illuminating topics that are helpful to people's growth and success. I hope to inspire people to feel motivated to live up to their full potential and know they can have an optimistic and prosperous life. My intention is to contribute to an empowered nation that makes great choices and positive change.
Personally I enjoy the world of fashion and keeping up with the trends. I have great interest in digital trends and the impact of social media in today's world. I enjoy learning from other creative people. I value having purposeful relationships with people who have great visions that align with my own.