As a photographer on the rise, it is necessary to stay connected to the world of photography news and trends.
You may have the skills but it always makes you better when you seek additional knowledge and tips in this sector from people who relate. The photography world is always buzzing with resources, ideas and new trends online. If you aspire to be the best photographer it helps to expose yourself to more awareness to inspire you and take your photography passion to the next level.
Being exposed to the work of other photographers and finding out their inspiration and daily motivation to pursue their passion, this is what makes you feel part of a community that understands you. Getting advice from photography professionals who have a better experience in the industry broadens your perspective on what is achievable. It challenges you to become better and learn more photography tricks and techniques.
As a photographer having a website or blog is essential in demonstrating your talent and work.  Having an online portfolio increases your credibility as a photographer and it promotes your professional career. When you use the latest visual trends for 2017 as inspiration, it creates an impact and enforces relevance in your work.
Here are some of the best photography blogs to inspire you and equip you with resources and revelation.
Photography Bloggers to inspire you 
As a photographer, it helps to follow other photo Bloggers who are well ahead and established in their professional careers. Following their photography blogs can inspire ideas and you get to learn exclusive tricks from another passionate photographer, who is successful.
Discovering their photo shoots and work and the inspiration behind can help you adjust your mind to think like a photographer. Explore the best photography portfolios with some of the most highly respected professionals in the industry to inspire you to advance your career.
Photography blogs to follow for Tips and Advice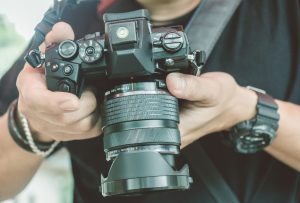 PetaPixel is a photography blog with lots of video tutorial, advice and techniques. It explores the best camera equipment and tools and describes how you can best use your equipment. The website informs you on how to shoot creative portraits and provides a lot of creative solutions.
Lighting plays a major role in what a photographer captures. It is important for a photographer to understand lighting techniques and to know how to adjust or manipulate light to work for them. The best photography blog for lighting advice is Light Stalking. It gives the best guides on how to best illuminate your photography.
As a photographer, it is essential to know the latest trends and the role social media plays in photography. Shutterstock reveals the creative design and photo trends that are dominating the creative photography in 2017.
LensRentals is a blog that focuses on photography equipment and tools. They review products and give advice on products they have tested and provide the best features or disadvantages. The website is your go to for advice on photography products and it provides in-depth details on equipment you can purchase.
Retouchist offers creativity techniques for photographers such as editing tools and guides that will take your portfolio to the next level. The website provides photographers conceptual ideas and inspires editing action through the knowledge provided.
Wedding photography websites 
Wedding photography websites are a popular modern day skill that is highly valued. The creation of a wedding photography portfolio has evolved into artistic and creative camerawork that draws the attention of many.
The creativity in wedding shoots is awe-inspiring and fascinating in how it is captured and conveyed imaginatively. You can draw inspiration from wedding photographers' vision and originality.
Photography websites with photo resources 
Resources such as high-quality photographs are vital when working on projects and you need great images. Photo websites such as Shutterstock, Unsplash, Pixabay and many more, provide users with downloadable high resolution photos. Shutterstock blogs highlights photography news and inspiration.
Enriching your professional career through a Photography Course 
It makes an impact on your professional career when you Study a Photography Course at a great college that offers insightful photography education. Getting an education in photography awakens your consciousness on the stages and elements of photography as you explore more.
Education creates a foundation for you to build your career upon and stretches your aptitude for your success in the photography industry.  Your commitment to following other inspirational blogs, news and trends is what grows your creativity and initiates ideas.
About the Author: Khanyie Dlamini
Content Creator at Educor Holdings
As a writer in the education sector I am passionate about nurturing people in their careers, wellness and personal growth. I focus on a variety of illuminating topics that are helpful to people's growth and success. I hope to inspire people to feel motivated to live up to their full potential and know they can have an optimistic and prosperous life. My intention is to contribute to an empowered nation that makes great choices and positive change.
Personally I enjoy the world of fashion and keeping up with the trends. I have great interest in digital trends and the impact of social media in today's world. I enjoy learning from other creative people. I value having purposeful relationships with people who have great visions that align with my own.